Northern Bullitt County Apartments & Townhomes
Conveniently located in Northern Bullitt County close to I-65, airport, schools, restaurants, & shopping centers.
Pioneer Village/Brooks Area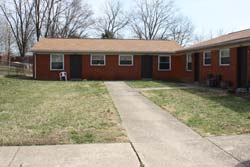 Western Road Apartments are 1 & 2 bedrooms and ranged from 500-1,100 sq. ft.
Features may include:
stove, refrigerator
washer/dryer hook-ups (in 2 bedroom units)
assigned parking
storage sheds
garbage pick up included
To get there, take Preston Hwy. to Summitt Drive, turn left onto Western Road.
Hillview Area
3 bedroom, 1 bath single family house.
Features may include:
fenced yard
stove, refrigerator, dishwasher
washer/dryer hook-ups
bonus room off kitchen
eat-in kitchen
To Get there, take Preston Hwy., turn right on Hillview Blvd., turn left onto Circlecrest Drive, turn right onto Valley Rd., turn left onto Dale Road, turn left onto Dale Court.
Requirements on All Rentals*:
Rental Application Fee**
$

25.00

Security Deposit

equal to one months rent

Security Deposit - per Roommate
$

500.00

Pet Deposit
$

400.00

Pet Charge per Month***
$

25.00

*Requirements subject to change

**Good credit required.

***Pets must be 25 lbs. or less full grown. Certified service animals allowed.